Our diaphragm valves are typically not lightweight, take into consideration any modifications it has gone through will reflect in the overall weight of the product. As product engineers, it is very important that we let the customers know in advance that this parcel is heavy, something as simple as putting a heavy sticker on a box weighing 23kgs so that the courier and/or customer (hopefully) doesn't underestimate the weight before lifting and do themselves an injury.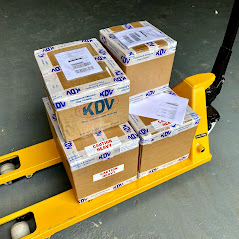 Within our business unit here at KDV Flow Limited, we care about the health and safety of our customers and logistics partners too. We pride ourselves on taking note of the smallest detail like this not to get overlooked. It cost our business little but it is an effort well spent so to speak.
This diaphragm Valve will be delivered to one of our repeat customers in the UK. KDV Flow LImited is a large stockist and manufacturer of Diaphragm Valves in the UK. We can also assemble diaphragm valves with actuation, custom lining for diaphragm valves, bulky and resell options are also available in our office.
At KDV we aim to be a one-stop shop for your industrial valve needs with your health and safety as our top priority. You may get in touch with us and our support team will be ready to assist you with the best possible service.